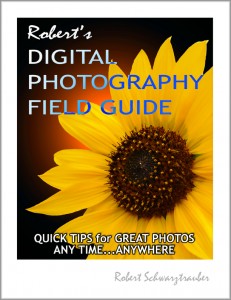 Welcome!
Thank you for joining all of us here who are eager to creative THE most unique and most beautiful photos possible.
As a valued member of this group we'll be periodically sending you all sorts of tips, tricks and techniques for crafting better digital photos.
Through my extensive internet research, as well as through talking and going on shoots with other photographers, people of all skill levels and techniques, I strive to bring you all sorts of rare tips that will save you time and make you look good.
To get you started instantly on becoming all the photographer you want to be, just below is the link to my Digital Photography Field Guide. Inside you'll find out exactly how to get the best results from your photo – no matter where you may find yourself.
Digital Photography Field Guide
This PDF ebook is password protected for our members only. You should have received your unique passcode in an email message after you completed the sign up and confirmation. Please check your email now if you do not already have the passcode.
Thanks for joining us!Let's create some great photographs now!
Bob Schwarztrauber
robert@creativephotographytricks.com